On April 13th, Li Shuibin, Member of Jingzhou Municipal Committee, Luo Zhongping, Chairman of Jingzhou Federation of Industry and Commerce, Zhao Fuchao, Deputy Director of Jingzhou Agricultural and Rural Bureau, Lai Peng, Section Chief of Jingzhou Municipal Committee Office, Han Kai, Chief of the Information Section of Jingzhou Agriculture and Rural Bureau visited Nutriera Group and had an exchanged meeting. Dr. Yang Yong, President of Nutriera Group, and Vice President Dr. Zhang Song , led the senior management team to warmly receive the visiting guest.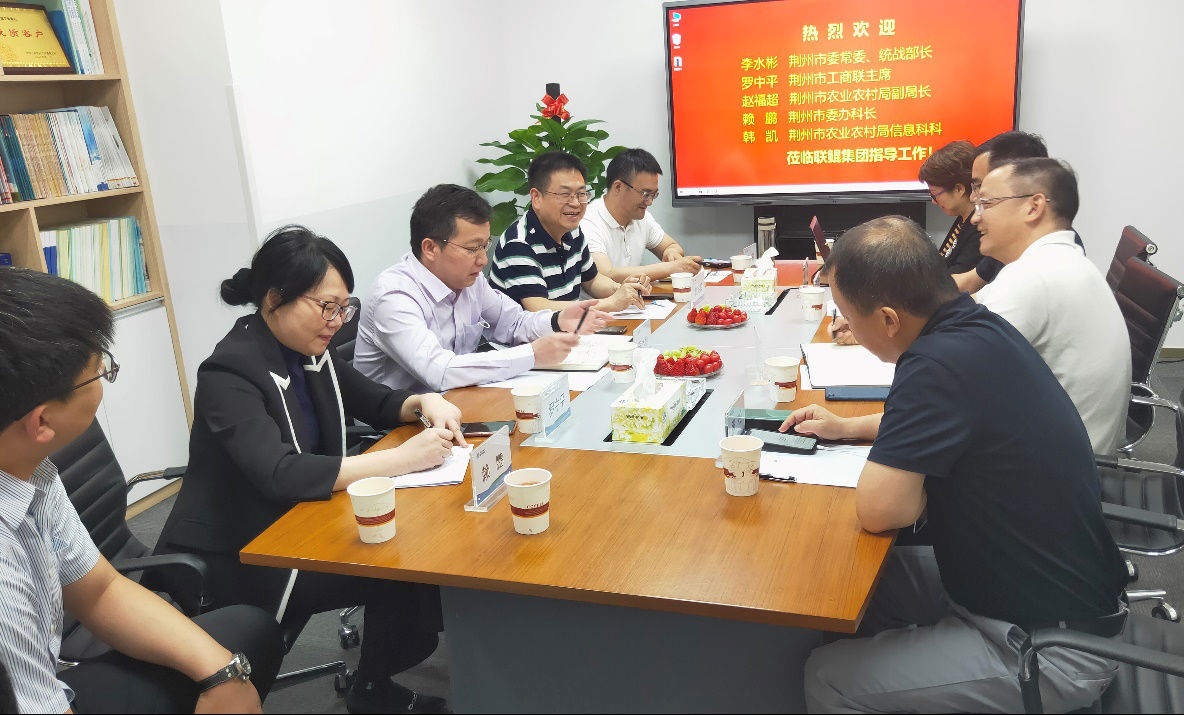 Li Shuibin first introduced the current situation of the development of aquatic products in Jingzhou. Jingzhou is "the No.1 city of freshwater fisheries in China". It has ranked first in the country's freshwater aquaculture area and output for more than 20 consecutive years, and has a good development prospect in aquatic field. Under the opportunity of the country's vigorous promotion of rural revitalization, Jingzhou Municipal Party Committee and Municipal Government will also vigorously develop the aquatic industry. The purpose of this visit to Nutriera Group was to discuss the development plan of the aquatic industry with outstanding companies, and invite Nutriera Group to invest in Jingzhou.
President of Nutriera Group, Dr. Yang Yong extended a warm welcome to the visiting guests for their attention for Nutriera Group. Hubei Jingzhou is a market served by Nutriera Group in the early time, with a broad customer base and a high degree of market familiarity. Over the years, expert team of Nutriera Group has also actively participated in promoting the development of Jingzhou's aquatic industry, not only passing the national but global leading technology, information and resources to the local industry. Nutriera Group also actively promotes the transformation and upgrading of local industries, and leads entrepreneurs to go out for investigation and study, broaden their horizons and enhance their strength. During the most difficult period of the Covid-19 pneumonia outbreak in 2020, Nutriera Group also actively mobilized global resources to raise anti-epidemic supplies for Jingzhou medical unit, and worked with Jingzhou to prevent the epidemic and help resume production.
Both parties also had an in-depth discussion on the current long-term development trend of aquatic industry, industry hot spots, and discussed how to transform and upgrade Jingzhou from a large aquatic product city to a strong aquatic product city.
After the meeting, Li Shuibin presented special souvenirs for Nutriera Group, the tiger seat bird frame drums, which represented Jingchu culture.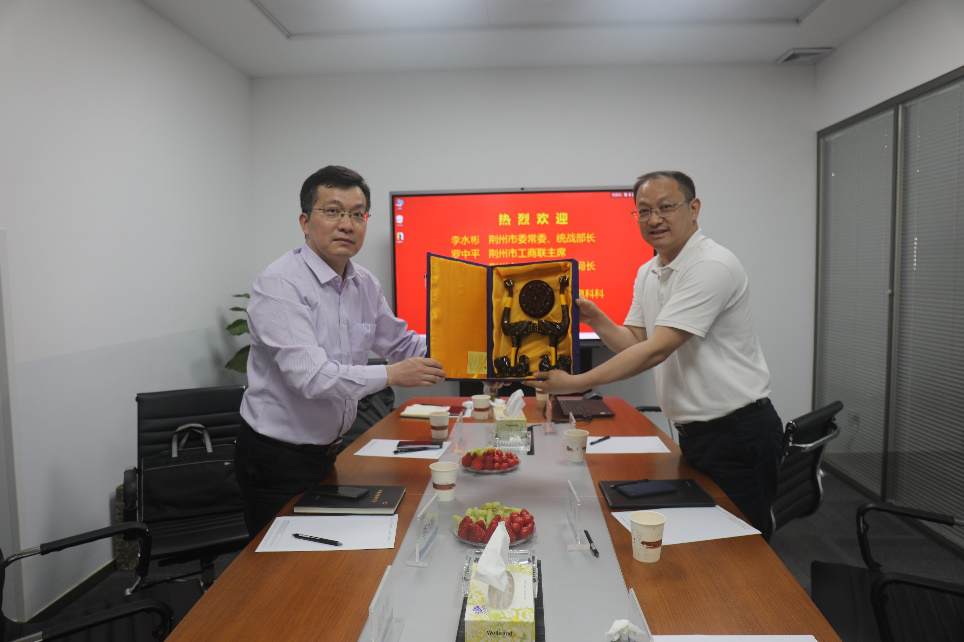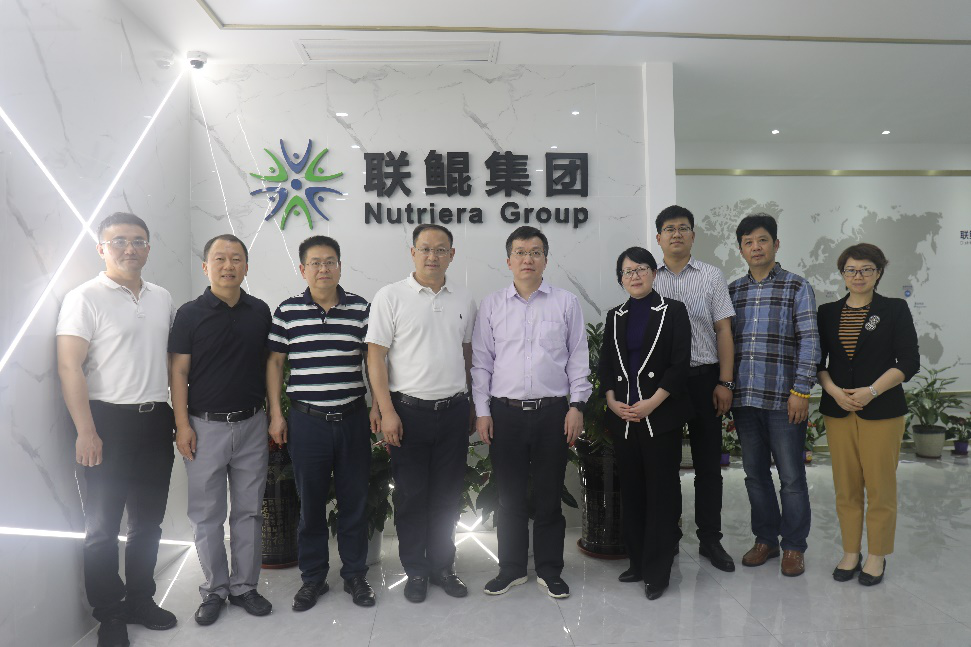 Group photo
Reference
Jingzhou is a prefecture-level city under the jurisdiction of Hubei Province, also known as Jiangling and Yingdu. It is an excellent tourist city in China and a national sanitation city. Jingzhou is the birthplace of Chu Culture and one of the first batch of 24 national historical and cultural cities announced by the State Council. Jingzhou is located in the hinterland of Jianghan Plain, with crisscrossing rivers and dense lakes. It belongs to the Yangtze River system. It has a subtropical monsoon climate and is extremely rich in aquatic resources. It also has unique conditions for the development of aquatic products. And it is known as the "land of fish and rice."
Jingzhou has been the largest city in freshwater aquaculture in the country for 20 consecutive years. It has the largest freshwater product wholesale market, and the wholesale volume of freshwater products ranks first in the country. In order to promote the city's transformation from a large agricultural city to a strong agricultural city, Jingzhou has planned and constructed the Jingzhou High-tech Zone near Jihan Canal in the western area of the city. And by strengthening the commercial circulation and expanding the deep processing, Jingzhou Fishery will go further and further.