On 8th August of 2017, Xiamen Nongxin Aquaculture Information Technology Co., Ltd (hereinafter referred to as Nongxin Aquaculture) and Guangzhou Nutriera Biotechnology Co., Ltd (hereinafter referred to as Nutriera) officially signed a strategic cooperation agreement in Panyu District of Guangzhou, which marked the formal start-up of strategic cooperation for both parties. The president of DBN & General Manager of Nongxin Aquaculture Dr. Yi Ganfeng and the General Manager of South China area Prof. He Tong together with president Dr. Yang Yong and deputy president Dr. Zhang Song of Nutriera Group have attended the signing ceremony.

The signing ceremony
The cooperation of both parties mainly focus on the financial field. Nongxin Aquaculture offers credit extension to Nutriera by making full use of its financial strength in the financial sector, then assesses credit business together with Nutriera for its customers who have financing needs. Through this way of joint credit, financial support can be extended to feed enterprises with high credit line and high efficiency to assist enterprises to obtain and use the funds for development.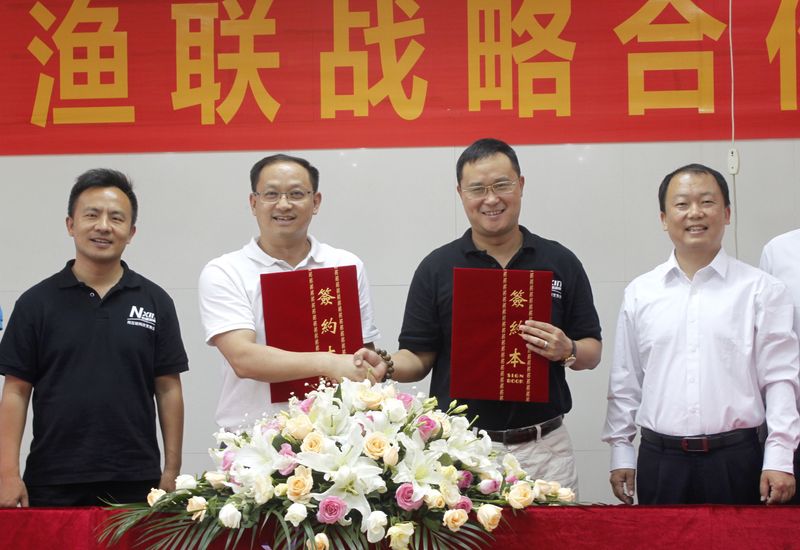 From left side accordingly, Prof. He Tong, Dr. Yang Yong, Dr. Yi Ganfeng and Dr. Zhang Song.
During the signing ceremony, the president of Nutriera Group Dr. Yang Yong made the following speech. "Unlike the large-scale group companies, at present there are so many industrial enterprises have survived and some even have had good development trends & potentials under the brutal competition environment though they have slight capital, weak team members and unknown brand. This is the fact that can prove they have successfully formed their own unique competitiveness. But for further development, this kind of enterprises are facing 3 major problems of shortage of funds, talents and technology. One side Nongxin Aquaculture can quickly solve the financial problems for these enterprises. On the other side, Nutriera can provide them with professional services by expert teams as well as systemized technical programs for support. This powerful combination will play a strong push role for the development of aquatic feed enterprises."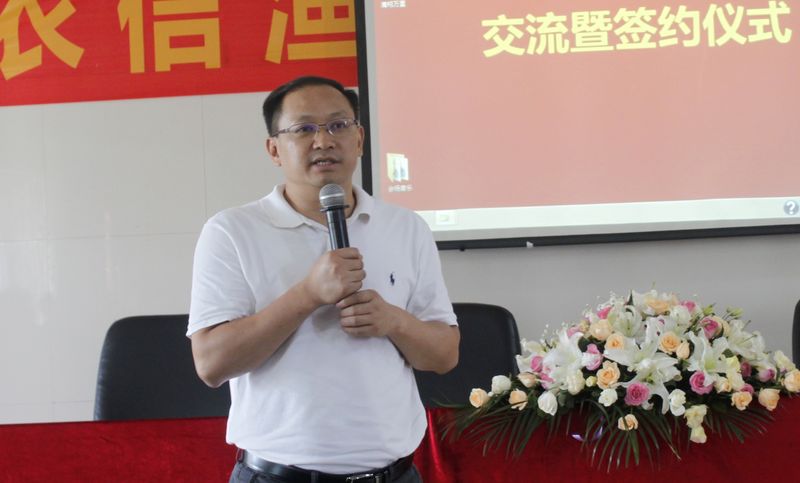 President of Nutriera Group, Dr. Yang Yong
Dr. Yi Ganfeng, General Manager of Nongxin Aquaculture have made in-depth analysis for the mode of "Internet + Aquaculture" which created by Aquaculture APP based on the theme of "the future of Nongxin Aquaculture & Nutriera has already come". The transaction of Aquaculture APP in the past 6 months reached 500 million CNY, the daily transaction exceeded 10 million CNY and broke through 200 million CNY in single July. Dr. Yi introduced the subversive development rhythm and the next target of Aquaculture internet, which is to combine all the superior feed enterprises, farming enterprises, seed enterprises, manufacturing enterprises with all the quality capitals, resources and information of aquaculture industry so as to achieve a wider range of cooperation, sharing, mutual benefit and win-win. Dr. Yi also said that the cooperation with Nutriera will become a significant event for Chinese aquaculture industry. The powerful platform and complementary resources of both parties will be a booming news for the whole industry. And this strong combination will certainly boost the transforming and upgrading for Chinese aquaculture feeds, which is bound to have a profound impact on the development of Chinese aquatic industry.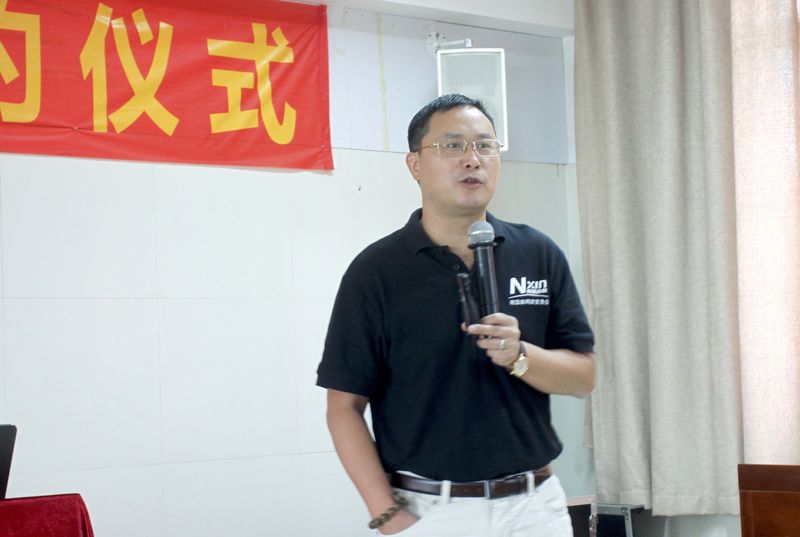 General Manager of Nongxin Aquaculture, Dr. Yi Ganfeng
The General Manager of South China area of Nongxin Aquaculture Prof. He Tong and the deputy president of Nutriera Dr. Zhang Song have made a presentation accordingly which named The cooperative mode of Nongxin Aquaculture & Nutriera and The significance of cooperation between Nongxin Aquaculture & Nutriera.
Nongxin Aquaculture is the subsidiary of Beijing Nongxin Internet Corporation, which has strong internet talents, technology and capital strength. Currently it controls billions of CNY of industry investment funds. Financial support project is one of the core businesses of Nongxin Aquaculture, which specializes in providing financial services for the outstanding enterprises of aquaculture industry. Compared with the traditional bank financing, Nongxin Aquaculture is more convenient without mortgage.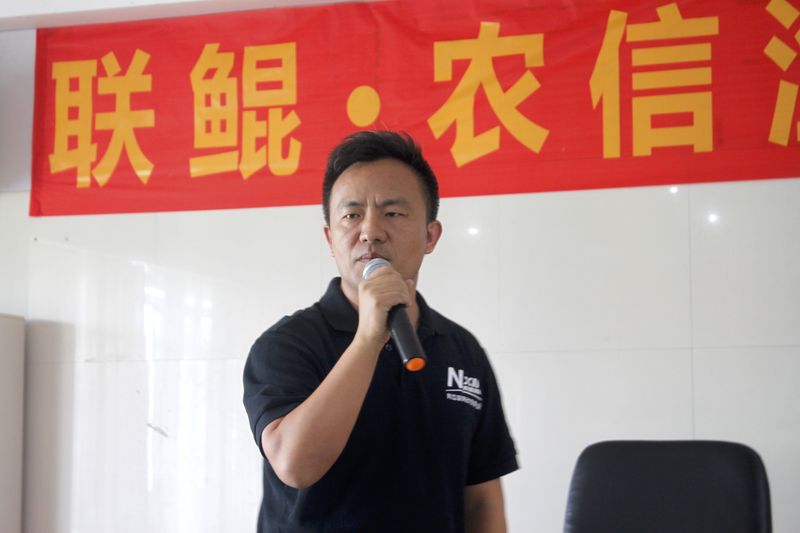 General Manager of South China area of Nongxin Aquaculture, Prof. He Tong
Nutriera is China's biggest manufacturers for aquatic premix and technical services in aquaculture industry, who focuses on providing integrated services for aqua feed enterprises from technology to management. Its current business has covered over 26 provinces of China & more than 20 overseas countries and has set up a wide range of cooperation with nearly 1,000 feed enterprises. It has helped many aquatic feed enterprises to transform and upgrade, which gained consistent praise from the industry.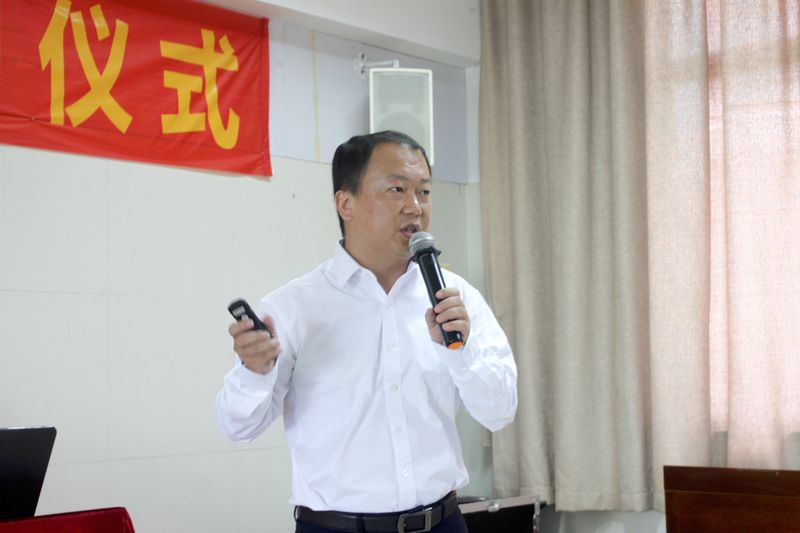 Deputy president of Nutriera Group, Dr. Zhang Song
The reason why Nongxin Aquaculture has chosen Nutriera as the strategic partner is mainly because of its powerful technical service, the worldwide expert teams and the internet information. Both parties have very good complementarity. As the most influential aquatic internet enterprise in present industry, Nongxin Aquaculture has integrated huge capital groups and quality resources, which can provide the necessary funds and resources for the development of enterprises. On the other hand, Nutriera has years of mature experience in providing services and technology supports for plenty of aqua feed enterprises. It can assist Nongxin Aquaculture to select & recommend high-quality customers and evaluate the capital risks. What's more, under the strong expert teams and professional technology, Nutriera can effectively help enterprises to promote healthy development and become stronger so as to reduce or even totally avoid the risks.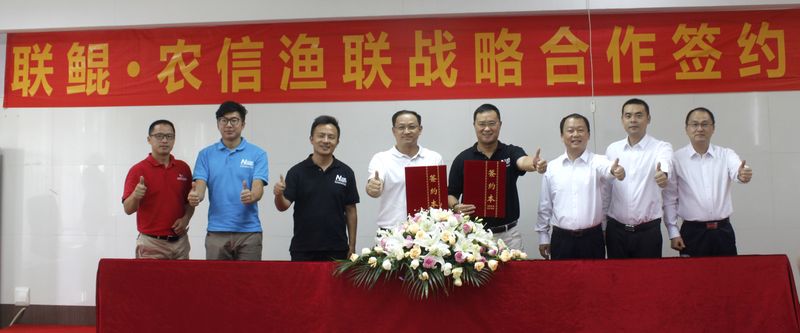 Lian Kun team and the agricultural letter fishing team photo
At present, Hubei Huize Feeds Company, Tianjin Haosheng Feeds Company, Liaoning Shuangyu Feeds Company, Yueyang Aohua Feeds Company, Xiamen Yinhao Feeds Company, Anhui Jinnong Feeds Company and some other enterprises who mainly deals with aqua feeds have successfully cooperated with Nongxin Aquaculture and gained the credit amount of over 100 million CNY. Adequate capitals and professional technical services will boost these enterprises to achieve rapid development.